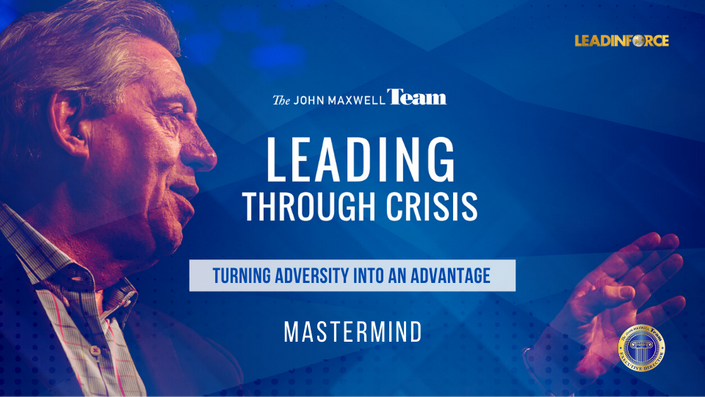 LEADING THROUGH CRISIS: TURNING ADVERSITY INTO AN ADVANTAGE
11 PERSPECTIVE PRINCIPLES ABOUT CRISIS
WE ARE SORRY, REGISTRATION FOR THIS EVENT IS CLOSED. NEXT CLASS WILL BE ANNOUNCED SOON.
FOR GROUPS (5 OR MORE) PLEASE SEND US AN EMAIL TO [email protected]
During a crisis, we are usually attempting to figure out the impacts we face. Yet, sometimes is not possible; the reality is that these crises are characterized by uncertainty. Therefore, crisis generally reveals the character of a leader and his leadership potential. Let's remember that our attitude towards a crisis determines the altitude after the crisis.
Are you prepared to turn adversity into an advantage?
Join us in an eight session virtual mastermind. These 8 sessions will help you to:
Learn and adopt the 11 perspective principles about crisis.

Learn practical ways to maneuver through times of difficulty and adversity.

Learn how to seize opportunity in a crisis while still leading well.

And much more...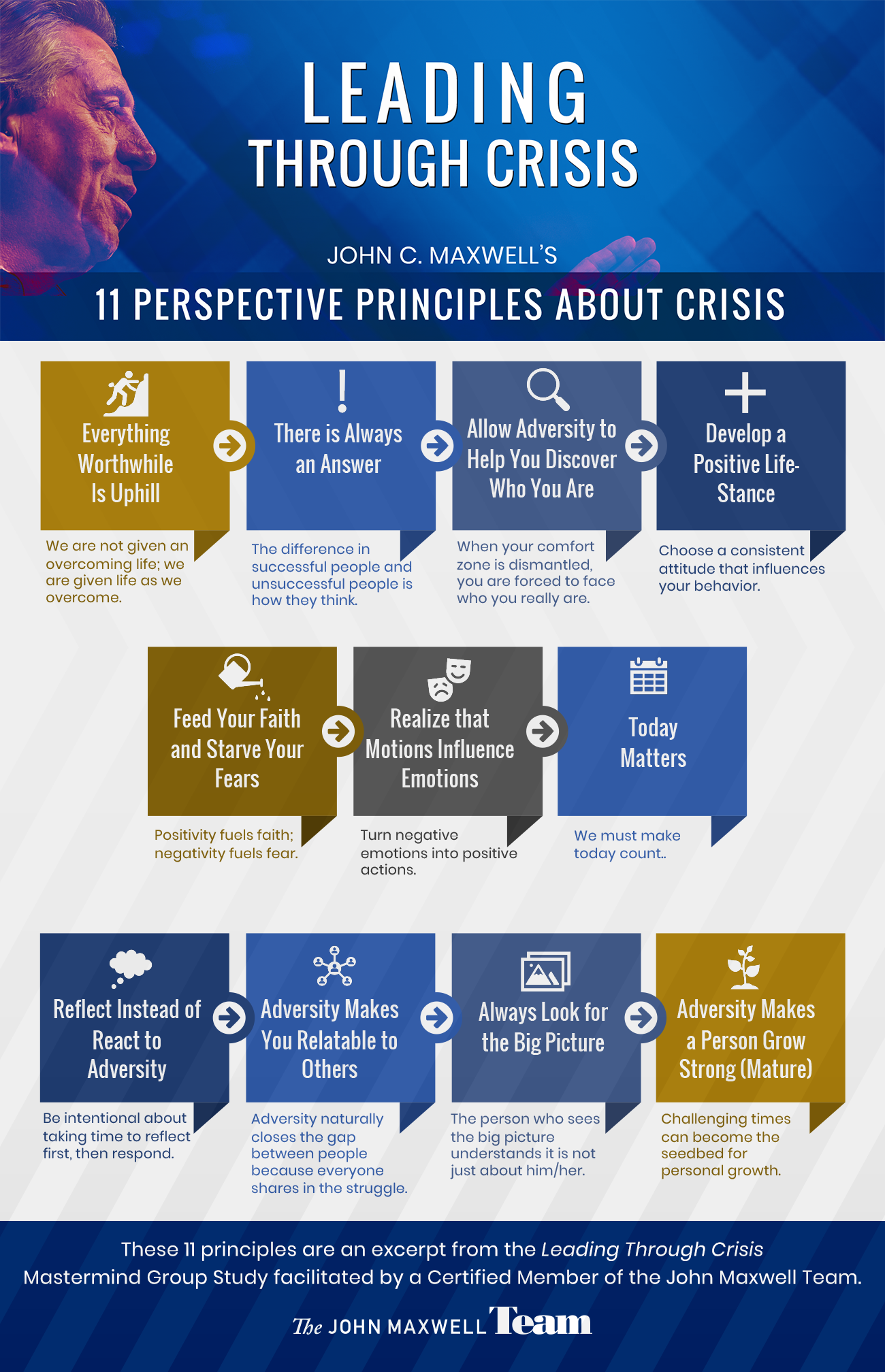 This mastermind is designed to:
Help participants to learn practical ways to see and run adversity into advantage, while helping others around them to do the same.

Guide participants through thoughts, values and decisions to help them implement daily, small, practical steps that will help them experience greater peace and empowerment as they lead through crisis.

Encourage participants to internalize what they're learning by understanding the ideas, having a greater self-awareness related to those ideas, intentionally applying practical application to their lives, and putting each step into action for more effective leadership.

Prompt questions in each lesson from key values and encourage discussion to increase our awareness for any crisis. Further, to prompt discussion, promote self-discovery, and encourage the application of ideas presented in the video and material being studied.
Do not miss this opportunity to participate in this mastermind and turn adversity into an advantage!
Agenda: Meetings via Zoom.
Session 1: Looking beyond fear to hope

Session 2: Advantages of a crisis

Session 3: Lessons from bad experiences

Session 4: Perspective Principles 1,2, and 3

Session 5: Perspective Principles 4 & 5

Session 6: Perspective Principles 6 &7

Session 7: Perspective Principles 8 & 9

Session 8: Perspective Principles

10 & 11
MASTERMIND expectations & participant values:

• BE Committed to the Group
• BE Ready to Add Value to Each Member
• BE On Time
• BE Free of Your Cell Phone
• BE Encouraging
• BE Willing to Learn from Other Members
Your Instructor / Tu Instructor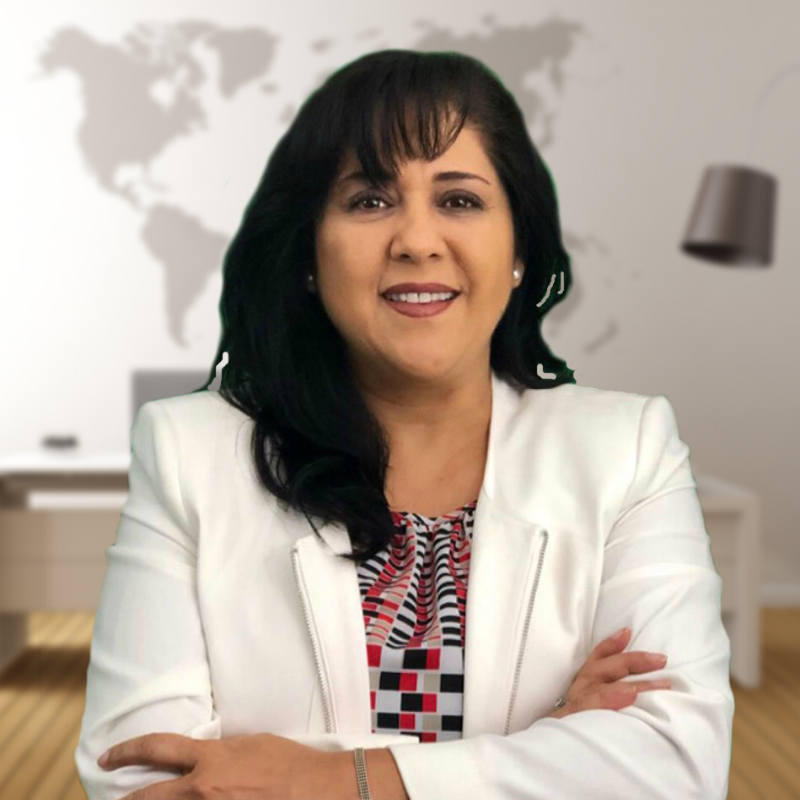 Her purpose is to help individuals, groups, and organizations reach success. She is committed to the growth of her clients' skills and a global perspective in order for them to reach high levels of growth and achievements.

Mother, wife, friend, servant leader, writer, international speaker, mentor, and coach. She is the Executive Director and Founder of the organization's "LEADINFORCE LLC" and "Liderazgo Hispanoamericano ©"; She is a Global Leadership Consultant; as well as Executive Director of the "John Maxwell Team ©" and Professor at Miami Dade College. She is the author of "Leadership and Culture." Dr. Sáenz is originally from Colombia and currently lives with her family in the United States.
For more information about LEADINFORCE and Dr. Sáenz, click the following link: leadinforce.com/about-dr-saenz
NOTE: If you know of any group or organization who would like me to facilitate this Mastermind with them (Max 8-10 people per group), feel free to contact me directly on [email protected]
Our desire in these challenging times is to serve as many groups & organizations as possible.
Team Leadinforce.