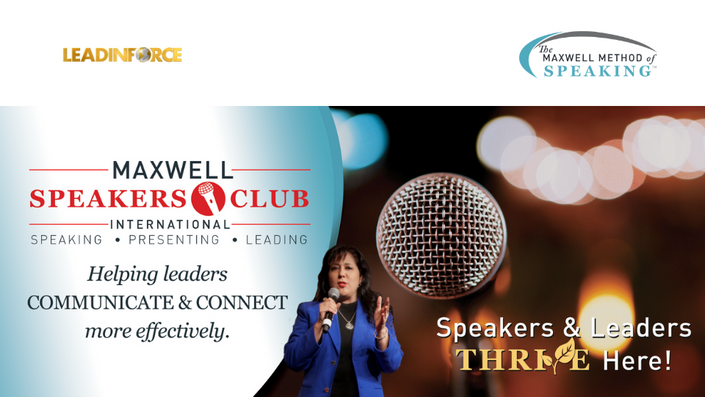 WELCOME TO THE MAXWELL SPEAKERS CLUB!
The Maxwell Speakers Club is about modeling excellence. Whether you want to be a speaker or you want to be in sales, influencing teams, or get more comfortable at networking and carry on a good conversation, the best way to do that is by joining our club.
Join our club for training, live speaking critiques, world-wide competitions and more! Participating in the Maxwell Speakers Club is the next best thing to being trained by John Maxwell himself. We take a world-class speaker, John Maxwell, and study his delivery skills and learn how to apply them in our presentations.
As your facilitator, I will guide you through practical exercises to help you master your communication and become a better speaker.
Speakers Club teaches how to connect with your audience, not just deliver a great speech. Connection is number 1 when it comes to communication. We focus on the audience and on the experience the speaker creates for the audience, rather than "the perfection" of the speech.
We not only give you a practice field to engage and work on your speaking, but to learn leadership values and principles that will impact your daily life as well. All this is done, in a fun and relaxed learning environment.
Here's What You Can Expect:
Support and encouragement.

Teachings from master communicator, John Maxwell.

Experiential learning through speeches, live feedback and critiques.

Practical topics and assignments.
OUR GOAL EVERY TIME WE MEET IS TO:
PART 1: Model Excellence with a video lesson using real speeches by John Maxwell and an extracted lesson
PART 2: Practice Grow with the help of speaker critiques and impromptu speeches
PART 3: Progress, be recognized, have takeaways, and reinforce knowledge with homework
In The Speaker Training Continuity Program you are able to:
Start at any time.
Learn and grow through active participation and real-time feedback.
Receive modeling and teaching exercises.
Connect with like-minded professionals for support and accountability.
Get valuable feedback from your peers, support others in their journey, and receive expert guidance along the way. The Maxwell Speakers Club is your place to become the best speaker, communicator and presenter you can be!
Get started now! / ¡Comienza ahora!
Your Instructor / Tu Instructor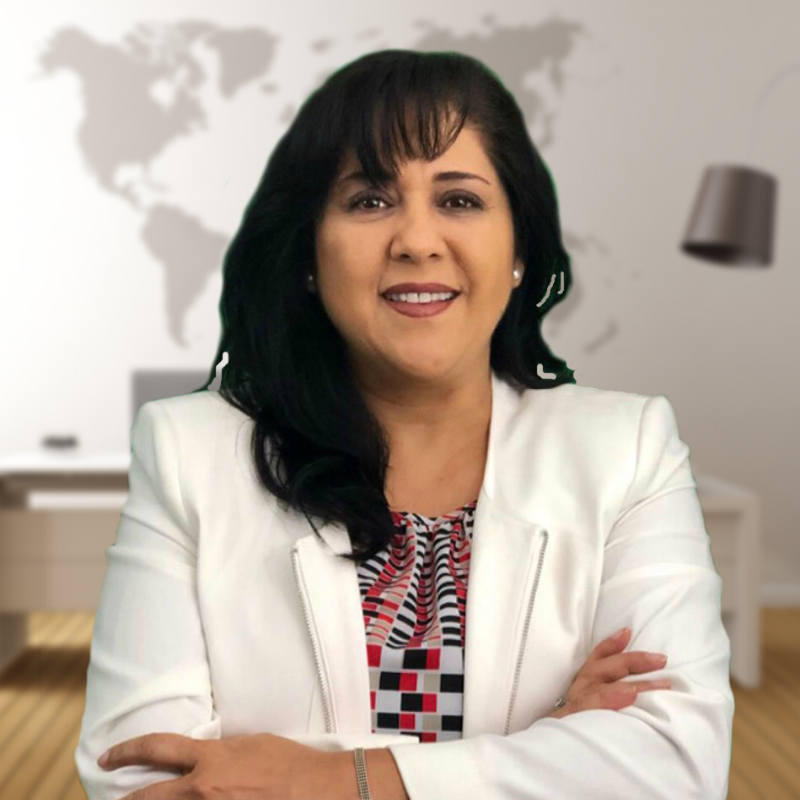 Her purpose is to help individuals, groups, and organizations reach success. She is committed to the growth of her clients' skills and a global perspective in order for them to reach high levels of growth and achievements.

Mother, wife, friend, servant leader, writer, international speaker, mentor, and coach. She is the Executive Director and Founder of the organization's "LEADINFORCE LLC" and "Liderazgo Hispanoamericano ©"; She is a Global Leadership Consultant; as well as Executive Director of the "John Maxwell Team ©" and Professor at Miami Dade College. She is the author of "Leadership and Culture." Dr. Sáenz is originally from Colombia and currently lives with her family in the United States.
For more information about LEADINFORCE and Dr. Sáenz, click the following link: leadinforce.com/about-dr-saenz